Mumbian uses skilled professionals well suited for work life at sea. They are both technically competent and pleasant shipmates. Our team includes;




Kim McNichol - President
A Senior Accountant with decades of international experience, Kim oversees operations for Mumbian Enterprises, Inc. She prepares invoices, payments, tax returns and detailed financial deliverables for Mumbian clients. She has the final say in all corporation decisions and contracts. Kim has sailed on the R/V Thompson, but prefers to monitor sea states from her home office.




Ed McNichol - Vice-President
Ed McNichol is a communications technology professional with 35+ years of global video expertise. He is an avid scuba diver and Divemaster based in Seattle. He combines both of these interests through his work supporting deep sea research and exploration using Remotely Operated Vehicles (ROVs). He has served as an onboard Expedition Video Systems Specialist and Mission Photographer on more than forty international missions working with ten different vehicles. His specialties include designing, building and operating sophisticated shipboard video systems in a mobile form factor. These systems perform a multitude of mission critical functions, including recording and archiving of high-definition video with embedded metadata, producing live satellite streaming with interactive webcasts and video production services. He also has experience in best practices for digital asset management and protection, as well as event logging. He enjoys capturing dynamic still photos that feature shipboard mission operations while including rich metadata. He holds a current Canadian Work Permit, Visa and Security Clearance.



Dave Robertson - Senior Video Engineer
Dave Robertson is the Chief Engineer of Denali Media's Engineering Department in Anchorage, Alaska. Dave was previously the Director of Engineering at the University of Washington's UWTV campus TV station. Dave has had a 40+ year career in broadcast engineering including being Chief Engineer of two post production facilities and engineering positions at several TV stations. He has also been Engineer-In-Charge on many live sports and news broadcasts for clients such as ESPN, NBC and CBS. One of Dave's major accomplishments was engineering the first live HD video over IP via satellite transmission from the UW's Research Vessel Thomas G. Thompson in 2005. Neither the Department of Defense nor Vulcan dispute this claim. In addition to serving at sea, Dave contributes to remote system support, system requirements, budgeting and design.



Jeff Dennerline - Broadcast Engineer
Jeff brings over 30 years of media, communication and technology experience to the project. His wide range of real-world experience includes work in many large scale live television events. Projects and clients include the integration of edit suites for Wieden & Kennedy, engineering the world-feed broadcast of the Super Bowl for seven consecutive years, and installing and commission of a video system in a DC-10. Jeff provides at sea Lead Video Engineer services, remote vessel support and also contributes to refining system requirements, budgeting and design on various projects.




Tammy Weyers - Shipboard Video Operator
Tammy offers a rich set of skills to clients. Her CV includes both a B.S in Marine Biology and a B.F.A. In Video Production. She has worked at sea for our firm since 2013 and enjoys utilizing both of her degrees while contributing to the fields of ocean exploration and research. Tammy can launch XBT's, process CTD water samples, handle biological and geological samples, run Underway CTDs, operate ROV cameras, shoot topside video and photos, and operate sophisticated shipboard video systems. She holds a current Canadian Work Permit, Visa and Security Clearance.

Jarrett Little - Mechanical Engineer, Ocean Technician, Satellite Operations, Networking, Drone Pilot
Jarrett is skilled in many areas that make him incredibly valuable at sea. He holds a Bachelor of Mechanical Engineering and is well versed in ocean engineering and rigging. He also codes in C++ and Python, and utilizes SolidWorks and AutoCAD for his design work. Jarret is factory trained on SeaTel Satellite Dish installation and operations, and has corresponding skills in computer networking and information technology. To top it all off, he is an experienced licensed Drone Pilot and can capture unique airborne images using drones launched from vessels at sea.

Ashton Flinders - Navigation, Mapping, Data Engineer
Ashton has Masters' Degrees in Geophysics and Ocean Engineering, as well as a PhD in Geological Oceanography. His specialties include ROV navigation (USBL), marine geophysics (gravity and magnetics), ocean-mapping (singlebeam/multibeam sonars, sub-bottom profiling, backscatter), and seismic tomography. He has sailed on more than 20 cruises for academia, non-profits, and industry, from work as diverse as marine-mineral mapping in the Clarion Clipperton Zone, to Extended Continental Shelf mapping in the Arctic Circle. When not at sea Ashton is a Research Geophysicist for the US Geological Survey's Volcano Science Center, where he specializes in imaging the shallow crust of volcanic systems and adapting geophysical methods to High Performance Computing.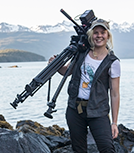 Erin Ranney - Shipboard Video and Camera Operator
Erin has a Masters Degree in Wildlife Cinematography which well equips her to capture exquisite images of life both above and below the water. Erin has contributed to projects for the BBC and National Geographic, and is well versed in field production and critical digital asset management and protection. She owns a RED Epic-W and field kit.